The Morning Show Season 2 premiered on Apple TV+ on September 17, 2021, featuring Jennifer Aniston, Reese Witherspoon, and Steve Carell. In the first season, Alex Levy's (Aniston) life fell apart when her co-anchor of 15 years, Mitch Kessler, was sacked (Carell). The drama series, which dealt with the metoo movement, is so similar to actual events that many viewers question whether or not it is based on a genuine story.
Is 'the Morning Show' Based on A True Story?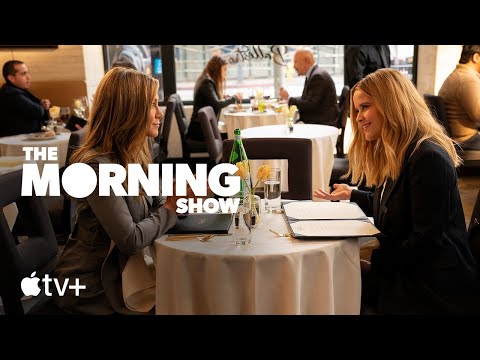 The Morning Show is a fictional drama on Apple TV+ that is not based on any particular individual, to answer this issue simply. However, a nonfiction book served as inspiration for the series: Brian Stelter authored Top of the Morning: Inside the Cutthroat World of Morning Television. Stelter witnessed a number of events while working as a media correspondent for The New York Times.
In addition, he focuses on Ann Curry, who has replaced Meredith Vieira on The Today Show. However, Stelter writes that after less than a year as co-host, the network forced her out of the show. Mark Ellenberg presented Jennifer Aniston and Reese Witherspoon with the idea for the series, according to Entertainment Weekly.
In 1989, he observed the network replace Jane Pauley as the host of The Today Show, which primarily inspired his idea. Many assume that she was replaced due to her age, and The Morning Show's Alex character addresses this issue.
The book also examines the struggle between Good Morning America and Today, which could serve as a model for The Morning Show's rivalry with Your Day, America.
Also Read: Top 14 Best Alternatives to OkFreeMovies: Free Movies and TV Series to Watch Online in 2022
 'The Morning Show and Matt Lauer
Matt Lauer has been terminated from NBC News. On Monday night, we received a detailed complaint from a colleague about inappropriate sexual behavior in the workplace by Matt Lauer. As a result, we've decided to terminate his employment. pic.twitter.com/1A3UAZpvPb

— TODAY (@TODAYshow) November 29, 2017
The concept that Ellenberg, Aniston, and Witherspoon offered to Apple for The Morning Show Season 1 did not materialize. As the producers prepared the new series for Apple TV+, Matt Lauer was one of NBC's Today show's highest-paid news anchors.
"We began development in August, but by November, the entire universe had altered," Witherspoon told Entertainment Weekly.
NBC fired Lauer on November 29, 2017, for alleged sexual misconduct. Business Insider reports that an employee submitted a complaint regarding "inappropriate sexual behavior in the workplace." This complaint resulted in his dismissal as co-host of the morning show. In the subsequent months, he publicly apologized but rejected some of the charges. After viewing The Morning Show, Season 1, viewers will notice that Mitch Kessler and Matt Lauer share many similarities.
Aniston and Witherspoon agreed that their new morning show series must address the me too movement.
"I cannot recall a time in my life when more people lost their entire careers due to wrongdoing," Witherspoon told the publication. "People who appeared invulnerable. We had to start from scratch and redevelop the show, but it ended up being so much more potent and timely."
Also Read: What Is StreamM4U? And Legal Sites to Watch and Download Movies in 2022
Season 2 Is Also Based on Current Events
As the second season of The Morning Show begins, the news organization is struggling to report on the global spread of the coronavirus (COVID-19). It also investigates racial inequality and workplace racism. Steve Carell initially signed a one-year contract to star in the Apple TV+ series. However, he repeated his role as Mitch for season 2. After the sexual misbehavior scandal in season 1, viewers observe the repercussions for him.
The Morning Show is inspired by a nonfiction book and actual contemporary events, although it is not based on any particular person's life or news program. The first season of The Morning Show is presently available on Apple TV+.