After looking at the important parts of Pocket Option, we don't think you should open an account with them. In this review, we'll look at some warning signs that you shouldn't ignore.
Want to find out if Pocket Option is a real company? Looking for brokers who are supervised and regulated to invest in the US, the EU, or the UK? Continue reading!
What is the Pocket Option?
Pocket Option is an unregulated online broker that only sells binary options, which pay out "all or nothing" within the time frame that you choose. Let's say Apple is trading at $100, and you think that in 5 minutes it will be trading above that price. If the stock is worth more than $100, you get your money back plus a bonus. If it ends up less than $100, you lose everything. All done.
Read More: What is APAP Login? How Does It Affect Sleep Apnea?
Is Pocket Option Regulated?
The biggest red flag is that Pocket Option hasn't been approved by the government. The first thing we do when reviewing a broker is check to see if it is regulated by reputable financial authorities in the US, EU, or UK, like the Securities and Exchange Commission (SEC) or Financial Conduct Authority (FCA). Pocket Option did not meet this requirement.
Gembell Limited, the company that runs the Pocket Option website, is based in the Republic of the Marshall Islands, which is a tax haven. It is not overseen by the most important regulators, and there is no guarantee that investors will be paid back if the broker goes out of business. Investor protection plans work well in the United States, the European Union, or the United Kingdom, but not in tax havens.
In fact, the FCA has already warned that the company is not allowed to offer, promote, or provide financial services or products in the UK. On the FCA website, "PO Trade Limited" is mentioned, but "Gembell Limited" is not. Both companies seem to be connected, and from what we know, "Gembell Limited" is in charge of marketing and platform development, while "PO Trade Limited" is in charge of brokerage.
Depending on the language you choose, the companies listed in the website's footer will be different. Only Gembell Limited is named for "English" and "French." On the "Portuguese" and "Polish" versions, however, the company "PO Trade Limited" is added.
Also, please keep in mind that these kinds of businesses often change their names. By saying it is regulated by the International Financial Market Relations Regulation Center, Pocket Option tries to make itself look safe and trustworthy (IFMRRC). But this is not an official authority in charge of rules.
Lastly, it was hard to find out anything about the business. There is no company page on LinkedIn, and there is no information about the employees… Nothing.
Trustpilot Reviews: Are They Fake?
If you look up "Pocket Option" on Trustpilot, you'll see that it has a rating of 4.4 stars and more than 2,000 reviews. After reading through dozens of reviews carefully, we think that most of the good reviews are not reliable. We think most of these are fake, though. A lot of these reviews make broad statements, don't give enough details, and use language that a real customer would not use.
Also, most of the positive reviews were written by people who didn't have any other reviews on Trustpilot: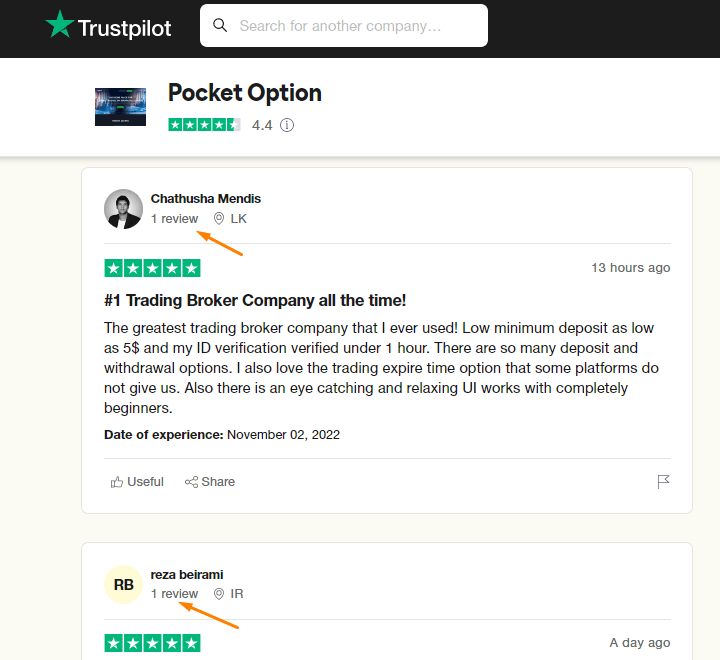 Also, Pocket Option doesn't have any verified reviews of their platform, so we're not sure how happy their customers really are: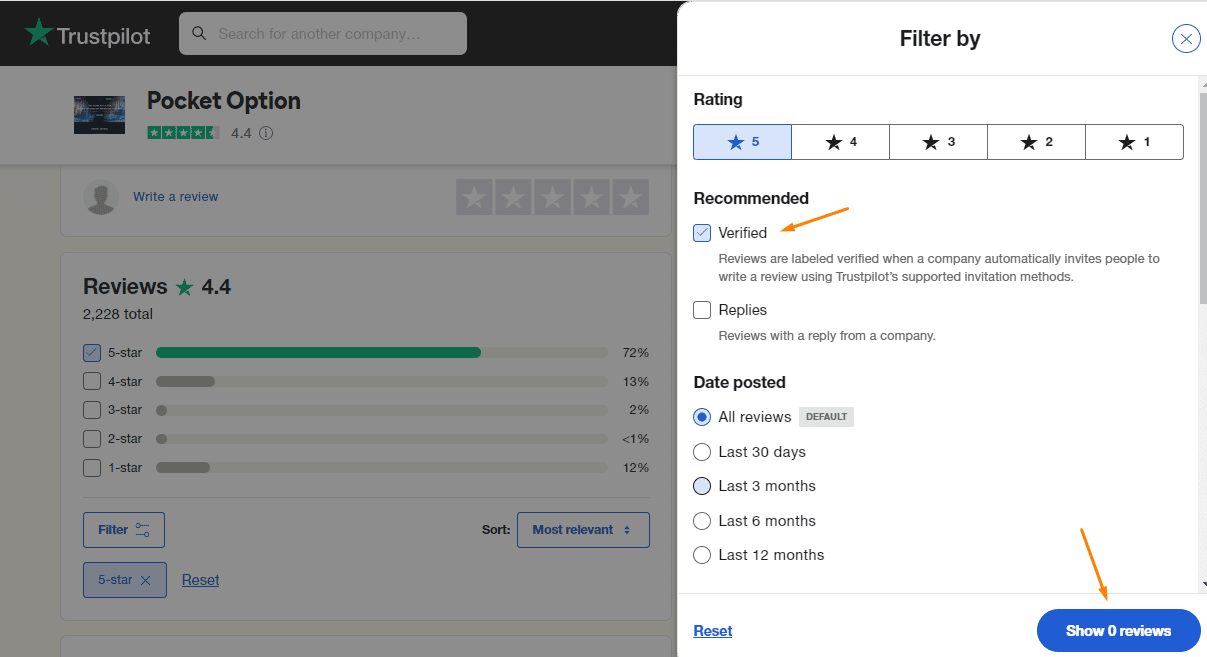 Also, Pocket Option doesn't have any verified reviews of their platform, so we're not sure how happy their customers really are:
Read More: How to Connect AirPods to MAC?
Aggressive Sales Approach
Platforms that want to get your money as soon as possible often do things that make you feel like you're missing out (FOMO) (Fear Of Missing Out). There are two things that stand out on the homepage:
Continuous pop-ups in the bottom left corner of the screen with messages like "David earned $250 in 32 seconds"
A Registration fill out that is impossible to hide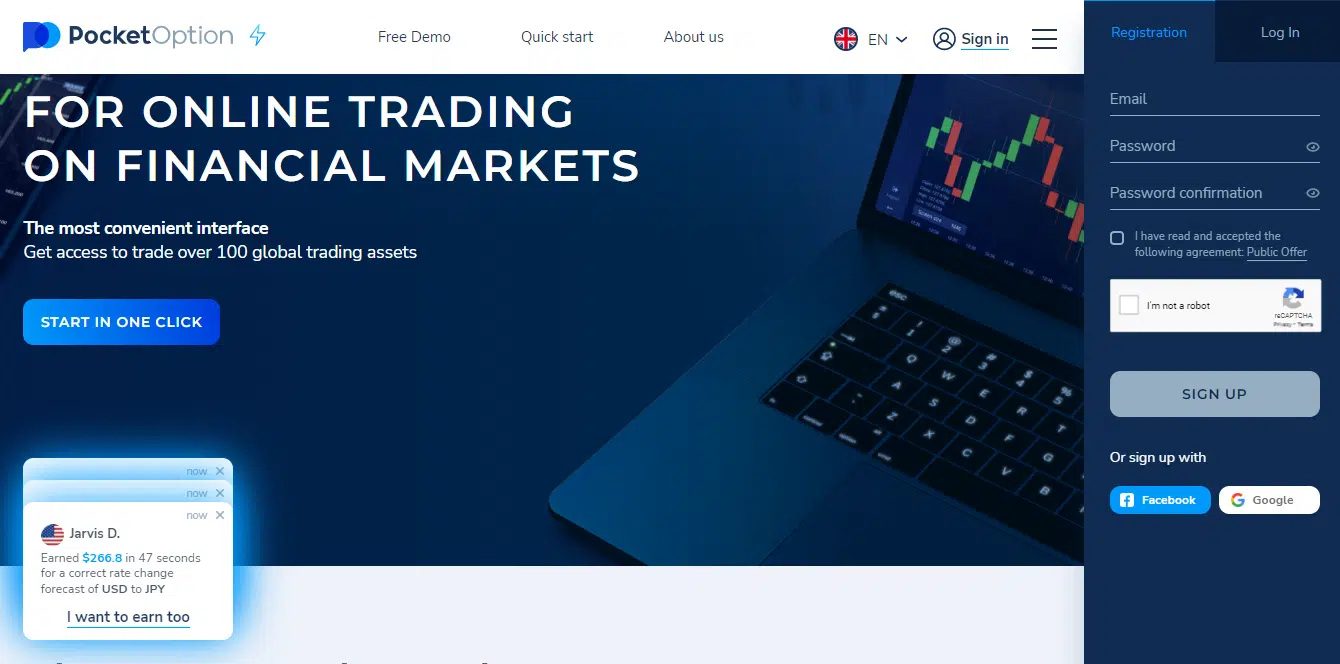 These practices are rarely present, if ever, in regulated online brokers.
Most regulated online brokers don't do these things if they do them at all.
As if that weren't enough, the Pocket Option shows a pop-up message after you look around their website for a while (It shows 13:06 minutes since I was exploring other related websites while having their page open). This is an obvious aggressive sales tactic to show that "you are wasting your time" if you want to learn more about the platform before signing up.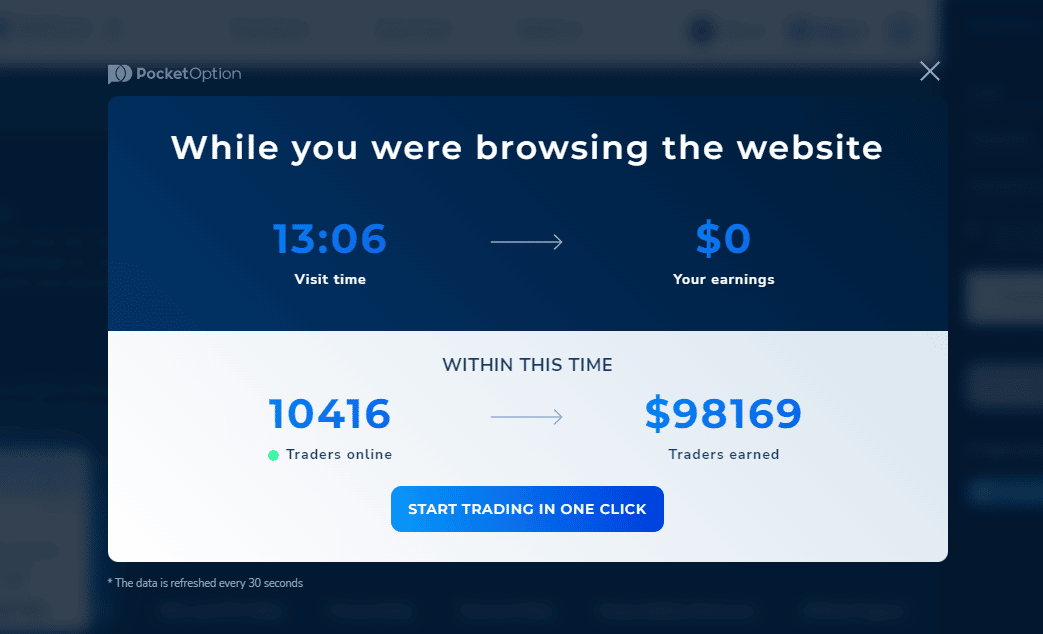 Did You Know that They Accept Deposits from Restricted Countries?
In the footer, it says, "Depending on the country and method of payment. Gembell Limited doesn't serve people who live in the EEA, the US, Israel, the UK, or Japan (our highlight). But they will take deposits without first asking you where you live.
At some point, you will want to take your money out. When that happens, Pocket Option will ask you to verify your account, which means they will know you made a deposit from a country that isn't allowed. So, it's likely that your Pocket Option withdrawal will be turned down.
So, Is Pocket Option a Scam?
At Investing in the Web, we are 99% sure that this company is not a safe place to put your money. Since it doesn't have the 1%, we'll "restrain" ourselves and not call it a scam, but the way it works is very strange.
Again, we strongly advise you not to invest in companies with so many red flags, no matter how good their product or service may seem (Pocket Option minimum deposit, demo account or even a Pocket Option promo code).
Read More: What is WhatsApp Tool and How To Use It?
Regulated and Supervised Online Brokers (our Recommendations)
You can feel safe putting your hard-earned money with many different brokers. These choices are fully regulated, have low fees, good customer service, and an investment platform that is easy to use, among other things. Please look at the ones that are the best:
Interactive Brokers: Founded in 1978, IBKR is an online broker based in the US and one of the world's most trustworthy brokers. It offers an enormous range of financial products (stocks, ETFs, Options,…) and low currency conversion fees (FX fees). Interactive Brokers also launched IBKR GlobalTrader, a modern mobile trading app to trade Stocks, Options and ETFs, ideal for novice investors.
eToro: A commission-free stock and ETF trading platform (not all ETFs are free). You can also copy other traders/investors. Slick, modern, and easy for anyone to use. It is trusted by over 25 million clients worldwide.
Webull: Webull is an investment app from the US with commission-free trading for stocks, ETFs and options. The investment platform is easy to use and intuitive, you have access to fractional shares and a demo account to test it out.
Public.com: Public.com is a US broker that allows users to invest in stocks, ETFs, and crypto, commission-free. You can buy fractional shares starting at $1. Still, not all securities available are eligible for fractional share orders, which only apply to market orders.
Read More: What is WhatsApp Tool and How To Use It?
The Bottom Line
There is some information you should verify before considering opening an account with any broker:
Always double-check if the platform is regulated in major developed countries (US, UK, and EU).
Search on reputable regulators' websites (FCA, SEC,…) to check if the platform is registered or, on the other hand, is on a warning list.
If you feel a "sales-y" approach, dig deeper.
Do not trust all reviews you read online (check several sources), particularly if no negative points are mentioned