Facebook has been working on different methods to improve the mental health of its users for quite some time. First, the firm developed the Take a Break function on Facebook to limit interaction with individuals with whom you do not wish to communicate. Now, the business has made the option to hide Facebook like counts available to all customers worldwide. You can hide likes on your own Facebook posts and disable like counts for all other users' posts in your newsfeed. According to experts, this can have a favourable influence on users, thus Facebook has made this option available to them. Therefore, if you want to discover how to hide Facebook likes, carefully follow our guide below.
Hide Like Counts on Facebook: A Step-by-Step Guide (2023)
This article describes three strategies for hiding Facebook likes. We will discuss how to keep your Facebook likes private using the Android and iOS applications, the website, and an extension. You may expand the table and navigate to any part you choose.
Hide Facebook Likes Using Android/ iOS Mobile App
Follow the steps below if you are using the Facebook app on your iPhone or Android smartphone to hide likes. Ensure that you have downloaded and installed the most recent version of the Facebook app from the Play Store or the App Store. This tutorial use the Android app, but the instructions are same for iOS users.
1. Launch the Facebook application and navigate to the hamburger menu in the upper-right corner (present at the bottom right on iPhone). Here, extend the "Settings & Privacy" tab by scrolling down. Then, select "Settings."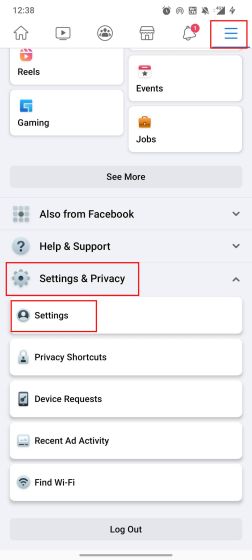 2. Next, under the "Preferences" section, tap on "Reaction Preferences".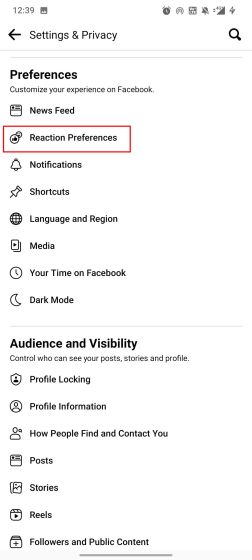 3. Finally, enable the toggle for "On your posts" under the "Hide number of reactions" section. It will hide like counts on Facebook for all your posts. If you want to disable like counts from posts of other people, turn on the toggle for "On posts from others" as well.
That's it. You have successfully disabled likes on your Facebook posts. Note that the reaction counts will still appear on Reels and Facebook Marketplace posts.
Also Read: How to Collab Post on Instagram as a Brand or Creator [Steps]
Disable Facebook Like Counts on the Web
If you browse Facebook on a desktop web browser, this tutorial will help you hide likes on the Facebook website. Here are the steps you all need to follow.
1. Open Facebook (website link) and click on the arrow icon at the top-right corner. After that, click on "Settings & privacy".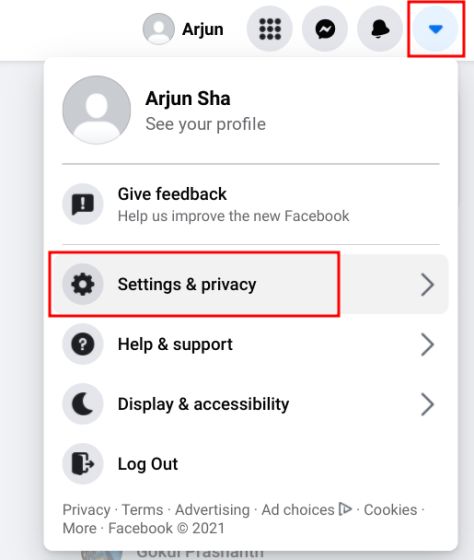 2. Now, click on "News Feed preferences".
3. On the page that opens, scroll down and click on "Reaction preferences".
4. Now, enable the toggles for "On your posts" and "On posts from others". It will hide likes for all your posts and others' posts on Facebook.
Also Read: How Does OutOfMemory Error Happen and How to Solve it in Android?
Hide Facebook Likes Using an Extension
If, for whatever reason, the settings page for hiding like counts is not yet available on your Facebook account, you can instal a browser extension or add-on. Follow the instructions listed below.
1. Install the Hide Likes extension if you're using Chrome or Microsoft Edge (Free). And if you use Firefox, use this browser extension (Free). The best feature of this plugin is that it conceals likes on Twitter and YouTube in addition to Facebook.

2. You are no longer required to take any action. Simply access the Facebook website, and the like numbers for all posts in your newsfeed will disappear. However, remember that others will still be able to view the number of likes on your postings. Therefore, it is preferable to use Facebook's native feature to conceal likes on the social media platform.
How to Hide Page Likes on Facebook
In addition to hiding individual posts, you can also conceal page category likes on Facebook. This covers, among many others, restaurants, movies, music, sports teams, food, and apparel. By default, Page likes are set to public, so everyone can see if you like your favourite k-pop musician, football team, or obscure apparel brand (but they do).
Follow the steps below to modify who can view your Page's audience categories and hide Page likes on Facebook:
1. Open Facebook.com and go to your profile by clicking your profile picture at the top right.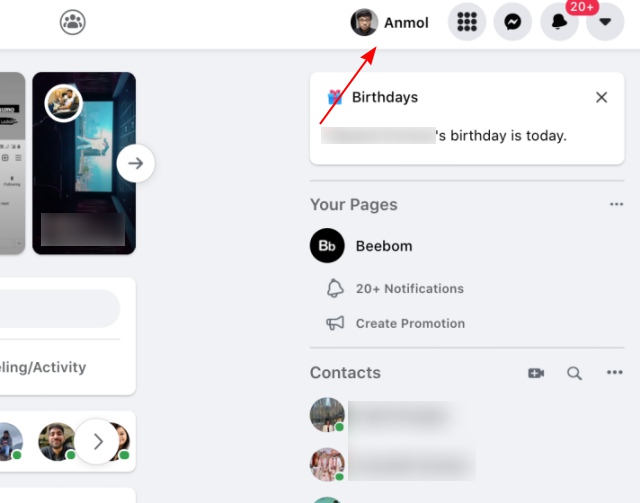 2. Then, click on "More" from the menu bar under your profile name. Select "Likes" from the list of options that appear.
3. On the next page, click on the ellipsis (three dots) icon next to the "Likes" heading.
4. Then, select the "Edit the Privacy of Your Likes" option.
5. Next, click on the globe icon next to the Page category whose audience settings you want to change.
6. Select the level of Facebook privacy you desire for your Page's likes. If you don't want other Facebook users to view the music pages you enjoy, conceal them by selecting "Only Me." You also have the choice between Public, Friends, Friends excluding acquaintances, and a Custom List.
Also Read: 10 Tips to Fix iPhone Stuck in Headphone Mode Like a Pro!
Disable Likes and Reactions on Facebook
This is how you can hide likes on Facebook, regardless of whether you are using the mobile app or a web browser on a desktop computer. If the settings page doesn't appear on your account, I've also provided the methods for hiding likes with an extension. Additionally, you can select to hide Page likes, as explained above. Anyway, that is all we have to say. If you wish to learn how to block or unblock someone on Facebook, please visit the article we have provided. In addition, if you have any questions, please let us know in the space below.