As Pokémon Go's international popularity continues to soar, there have been numerous attempts to deceive Niantic's systems by faking locations or utilising joysticks. Since the launch of the augmented reality (AR) mobile game, Pokemon GO hacks for Android, bonus & rewards sheets, and Team GO Rocket cheat sheets have flooded the internet.
Even we revealed Pokemon GO hacks for Android devices with root access. Android rooting has become less popular as flagship and affordable smartphone hardware specifications have improved. No one desires to forfeit the guarantee on their smartphone because of a game.
This article discusses the practical Pokemon GO Joystick Hack as well as the top GPS Spoofing/Hacking applications of 2022. You may wonder why someone would undermine the fun of a game in this manner. Well, if you're exhausted, ill, or it's raining outside, you can't go outside. Why forego the experience? Enjoy it from the comfort of your own home, and you can still catch them all. During normal days, the original game is playable. Sounds incredible, doesn't it? Proceed directly to the procedure.
If you follow all of the specified procedures, you will obtain the GPS location spoofing, Joystick, and Teleport features, allowing you to capture Pokemon from anywhere. If you're an iOS user, you may check out our Pokemon GO iOS hack, which is more straightforward than the Android version. You may also play it on your computer using the ways described in our post How to Play Pokemon GO on a Computer Using Arrow Keys.
Due to the newest Google Play Services and Android security patches, there have been numerous challenges with the working of the exploit. Pokemon GO also detects the presence of GPS spoofing apps on Android devices. However, this is not the case for all Android versions. Depending on your device and Android version, we have discovered multiple ways to utilise the hack. To determine which approach works for your phone, you must know the Android version of your device and the installed security patch.
Pokemon GO Android Hack (2022)
Before beginning the tutorial, ensure that the original game has been downloaded from the Play Store. Choose one of the spoofing applications listed below. These three apps are the only ones that operate with all security upgrades and allow you to change your location using the arrow keys. You can try the free apps, as the most recent security patch for the Galaxy S10 has been compatible with them without trouble, but if they do not function, you must purchase the third app.
I am aware that it is now a premium app, but spending a few dollars is preferable to having your Pokemon GO account banned. You can also use Fly GPS, although it lacks automated altitude and rubberbands significantly more, making it susceptible to softbans.
1. Fake GPS GO Spoofer
Using Pokemon GO GPS Spoofing on a Non-Rooted Android smartphone prevents you from using the application to its full capacity, resulting in the Rubber Banding effect. (You may circumvent the Rubber Banding effect by wrapping your phone in aluminium foil.) This prevents the original GPS from tracking your current location, however you may see the "GPS Signal Not Found" or "Failed to Detect Location (12)" error message. However, these tutorials on Pokemon GO GPS Signal Not Found and Pokemon GO Failed to Detect Location will help you fix the issues (12).
What is Pokemon GO Joystick Hack (Fake GPS Spoofing)?
The Pokemon GO App is developed utilising the Google Maps API. It tracks your location using your phone's GPS and displays Pokemon depending on Niantic's location-based assignment. Pokemon GO joystick programmes trick the GPS into believing that your location is moving, which then moves you within the game. The application provides control buttons (similar to joystick arrow keys) to navigate in any direction. You may also alter your walking or running speed. In Pokemon GO, the joystick shows as an overlay (PIP) so that you can observe your character's live movement.
We do not intend to destroy a game designed to encourage exploration and walking. However, do you wish to go every time? During a pandemic such as this, venturing outside can be fatal. This trick is designed to assist you in playing while remaining safe.
Should you Root your Android for Spoofing?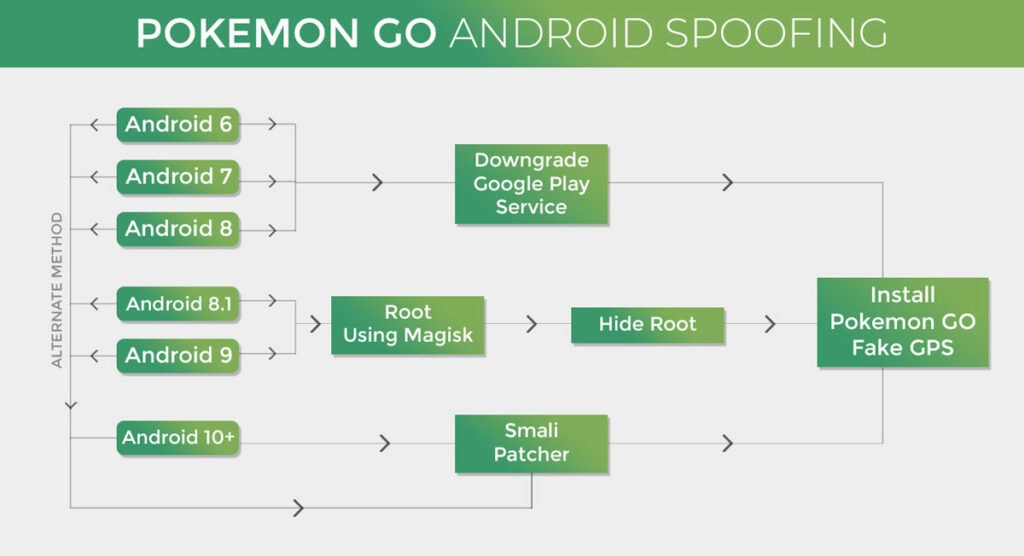 Previously in 2019, it was sufficient to instal the Fake GPS app and enable the Mock location option to begin spoofing. In contrast, Niantic now detects spoofing whenever the mock locations checkbox is enabled. Depending on the Android version of your device, you must either instal the Pokemon GO Android hack app by downgrading your phone or by rooting and transforming the app into a system app, or you do not need to do anything.
While people may believe that downgrading and rooting are essentially the same, they are actually two distinct processes. You do not need root access to downgrade your Android version. As long as you use official firmware, downgrading your operating system will not violate the warranty on your phone. Before deciding whether you should root your Android device, let's determine if it's necessary.
Also Read: How to Play Youtube in Background in iphone?
Pokemon GO Spoofing (Android) using Smali Patcher (New Method)
Smali Patcher extracts the Android framework from your device, applies the necessary changes to the source files, and then builds a Magisk module containing the applied fixes without requiring any manual intervention. You do not need to copy the fake GPS routes programme to the system folder, and you can still spoof GPS without rubberbanding in Pokemon GO.
This approach is compatible with all Android versions, including Android 10, 11, and beyond. For GPS spoofing using Smali Patcher, you will need a bootloader unlock and TWRP. Refer to our method to unlock the bootloader and instal TWRP on nearly all mobile devices. Follow the instructions below to instal Smali Patcher on your computer.
Step 1. Download Smali Patcher and extract it to C drive.
Step 2. Enable USB debugging in developer settings on your device and connect your device via USB to your PC.
Step 3. Run Smali Patcher with Admin Permission.
Step 4. Wait for the Smali Patcher to finish dumping and until it prompts Idle.
Step 5: Now, Click on ADB Patch. Once the process is completed, Magisk module will be generated in the same directory as Smali Patcher.
Pokemon GO Hack for Android (No Root)
If you have not yet updated your device to Android 8 and wish to utilise the Pokemon GO Spoofing Android hack, then here is the method for you. This technique does not require root access. This is one of the least effective strategies, but you can try your luck with it.
You must first reduce your Google Play service. You need to downgrade to version 12.6.x of the Google Play service. However, Niantic detects certain variants. Therefore, you may choose 12.6.87, 12.6.88, or 12.6.8.9
Google restricts the downgrade of Google Play Services to prevent the use of obsolete protocols on devices. Due to the restriction, there is no single-click solution to disable updates and downgrade to the desired version. Follow the procedure to downgrade the software. Remember that some Google Apps may no longer function once you downgrade. If you mistakenly update the Google Play Services app, you must repeat these procedures.
Also Read: How to Start Safe Mode in Windows 10?
Installing Magisk for Spoofing (Requires Root)
You cannot downgrade your Google Play services app if you're running Android 8.1 or later. The only solution is to root and instal Magisk on your device.
Niantic recognises any third-party applications with spoofing or joystick in the name, thus we cannot use the spoofing apps directly. If you continue to impersonate without installing the application, you may be blacklisted. I would only recommend rooting and taking these steps if you're running Pokemon GO on a secondary device. Rooting your device may cause payment apps to become unstable.
Step 1. Open this link, you'll find many APK files. In order to find the right one, first download Droid Hardware Info app and check under "System" tab. Check the value of "Instruction Sets" (It would like something like arm64-v8a, armeabi-v7a, x86, x86 + x86_64).
Step 2. After checking the instruction sets value, depending on your device's Android version (6,7 or 8), go into that part of downloads. For ex: My device runs on Android 8.0 so I'll go to the part shown in the image below.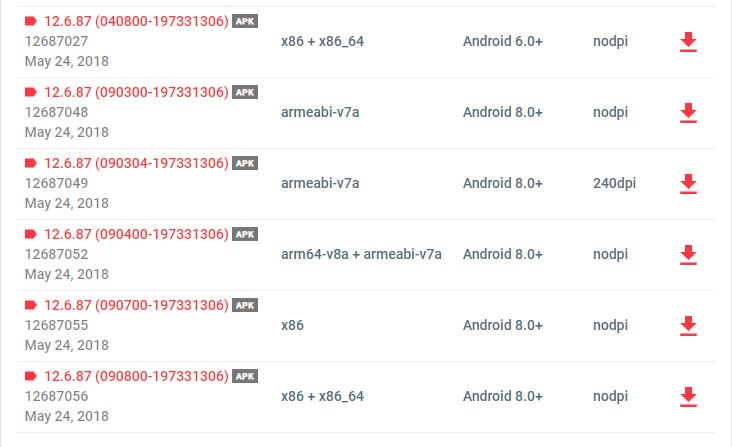 Step 3. Check for your Instruction sets value in the table. In my case, it's arm64-v8a. There are 3 files of arm64-v8a. If you're sure about your device's DPI, you can download that or else download the nodpi one.
Step 4. Now, you need to setup Pokemon GO Spoofing App. To do that, navigate to this section.
Spoofing Pokemon GO using VMOS (Parallel OS)
To play Pokemon Go on Android 10, the VMOS app must be downloaded. It's a Virtual Machine-based programme (VM). The VMOS system may initiate root access with a single click without rooting the primary Android device. It can be considered an Android virtual box. VMOS can be installed on Android as a standard application. In addition to being an emulator and App cloner, VMOS is not controlled by the host system. (Android On The Mobile Phone)
VMOS generates a virtual Android environment that operates on Android 5.1.1 and includes a functional Google Play store and network connectivity. You can use your Gmail account to access the complete Play Store and to download new applications. VMOS enables the usage of two Android systems on a single device, allowing you to run duplicate apps with different accounts. VMOS can also be used to divide your personal and professional accounts.