Users of Windows 10 who encounter issues such as a poor response time can consult the Task Manager for assistance. The Task Manager provides a lot of information about the tasks currently executing on your computer.
The computer's disc use is one of the metrics that can be monitored with Task Manager. If you observe a disc utilisation of 100%, your system's disc usage is at capacity and its performance will suffer. You are required to take corrective action.
Many users who recently upgraded to Windows 10 have reported that their machines perform slowly and that Task Manager reports 100% disc utilisation.
Here are ten potential solutions to the problem of excessive disc use on a Windows 10 PC. Due to the stress and increased utilisation of your hard disc, some tasks may take longer than usual.
Way 1: Restart Your System
You are familiar with the fact that restarting your computer frequently resolves various issues. Your Windows 10 disc utilisation issue is no exception. Taking this path may not help you determine the underlying cause of the issue, but if it goes away, that may be sufficient.

Use "Restart," which begins your system in a clean state, as opposed to "Shut Down," which keeps your system state and may not resolve your disc issue.
 Way 2: Update Windows
Installing the newest Windows 10 system updates can often cure baffling issues. In the Windows Settings app, navigate to the "Update and security" area to determine if you are up to current.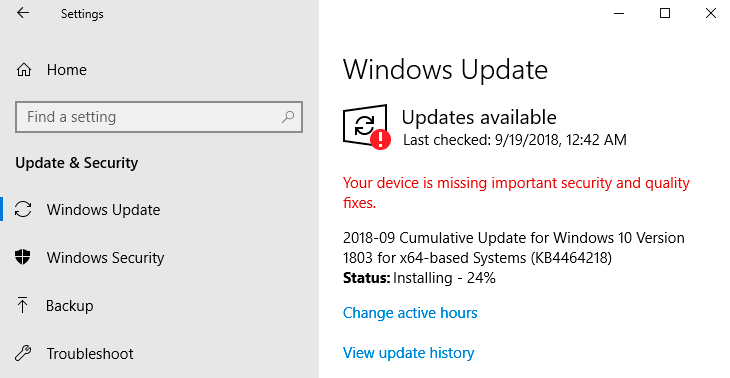 You can check for available updates and instal them if they're present.
Configuration > Update & Security > Windows Update
This may enhance the performance of your entire system, including your hard disc.
Also Read: How to Fix Red Eye in iPhone video?
Way 3: Disable Windows Search
A known problem in Windows 8 and 10 may result in a search loop, which may be the source of your high disc consumption. Open an administrator prompt and type the command net.exe stop "Windows search" to temporarily disable Windows Search and see if this resolves your disc issue. This will prevent Windows search from operating until Windows is rebooted.

If Windows Search is the cause of your Windows 10 disc utilisation nearing 100 percent, you can disable it permanently by following these steps:
Way 4: Check For Malware
Your computer may be infected with malware, resulting in an increase in disc utilisation. Antivirus software that was running in the background should have detected the issue. However, since nothing is flawless, you should compel your antivirus software to scan your hard drive for any infections. Identifying and removing harmful software may necessitate this time-consuming operation, especially if your disc is already heavily utilised.
Way 5: Stop the Superfetch Service
Windows Superfetch is an additional Windows 10 function that can cause issues. Similar to Windows search, you can temporarily disable this service with the command: net.exe stop superfetch.

To permanently disable the service, follow the same steps as for removing Windows search.
Also Read: How to Fix the 403 Forbidden Error (8 Methods)
Way 6: Change Energy Options from Balanced to High Performance
This tweak in energy settings appears to have helped a number of Windows 10 customers with 100 percent disc utilisation.
Follow this process: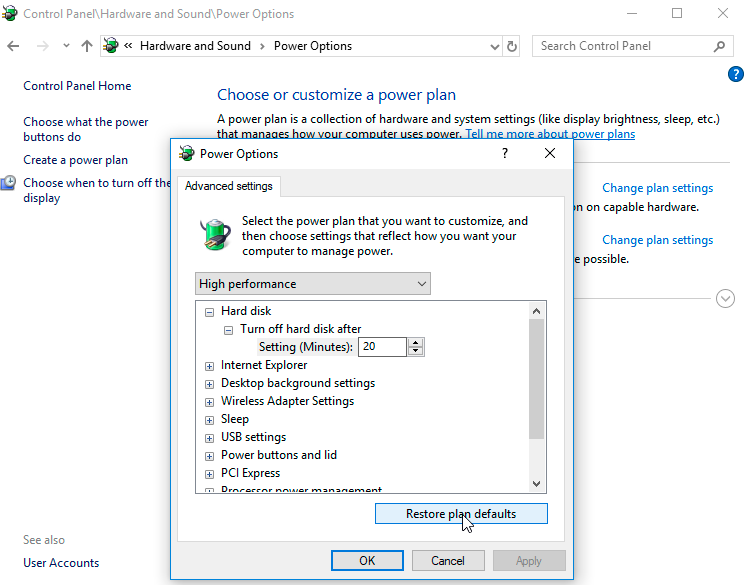 Way 7: Temporarily Turn Off Your Antivirus Software
In addition to temporarily disabling your antivirus programme, you should investigate the reason of your Windows 10 100% disc utilisation issue by turning off your antivirus software. Determine if this reduces your disc consumption. If so, you may wish to change your antivirus software. Even Windows Defender can cause issues by raising I/O and network utilisation, which may result in excessive disc usage.
Way 8: Reset Virtual Memory in Windows 10
Virtual memory interprets your disc as if it were RAM and uses it to swap temporary files when physical RAM is exhausted. Errors in the pagefile.sys file can result in 100% disc utilisation on a Windows 10 system. This issue can be resolved by resetting your virtual memory settings.
Follow these methods to clear your memory cache:
Way 9: Run Check Disk
A check disc can reveal whether your hard drive has physical problems. Typically, a high disc consumption implies that an application or logical fault is behind the high disc usage, but it is important to rule out physical damage. Perform a disc check and record the findings.
Also Read: 4 Ways to Fix Error 404?
Way 10: Change Settings in Google Chrome and Skype
According to some users, making these adjustments to your Google Chrome and Skype settings can have a positive impact on your disc utilisation.
Change the following for Chrome: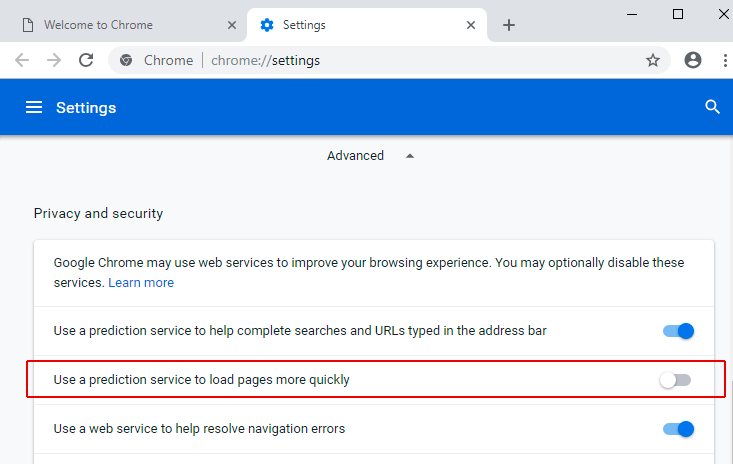 Settings -> Show advanced settings.
Under Privacy section, uncheck the "Use a prediction service to load pages more quickly" option.
You should also try disabling Flash in Google Chrome.
If these solutions do not address the 100% disc use issue on your Windows 10 computer, you may need to replace your hard drive. Disable any automatic defragmentation procedures that are currently running, as they may be causing problems. In general, your hard disc should never be at 100 percent usage, therefore if it is, there must be an underlying cause. You must resolve the issue or risk a machine that moves at a snail's pace.